Yule be Rich
Christmas themed-slot game Yule Be Rich may be at its best during the festive season however you can play it all year round and still win some nifty jackpot prizes.  This multi-line slot game is one that gives off bags of excitement and plenty of bonuses that are above and beyond what you would expect to see from a standard slot game.  Whether it is Christmas or not, this game will appear on the majority of credible slot or casino sites all year round!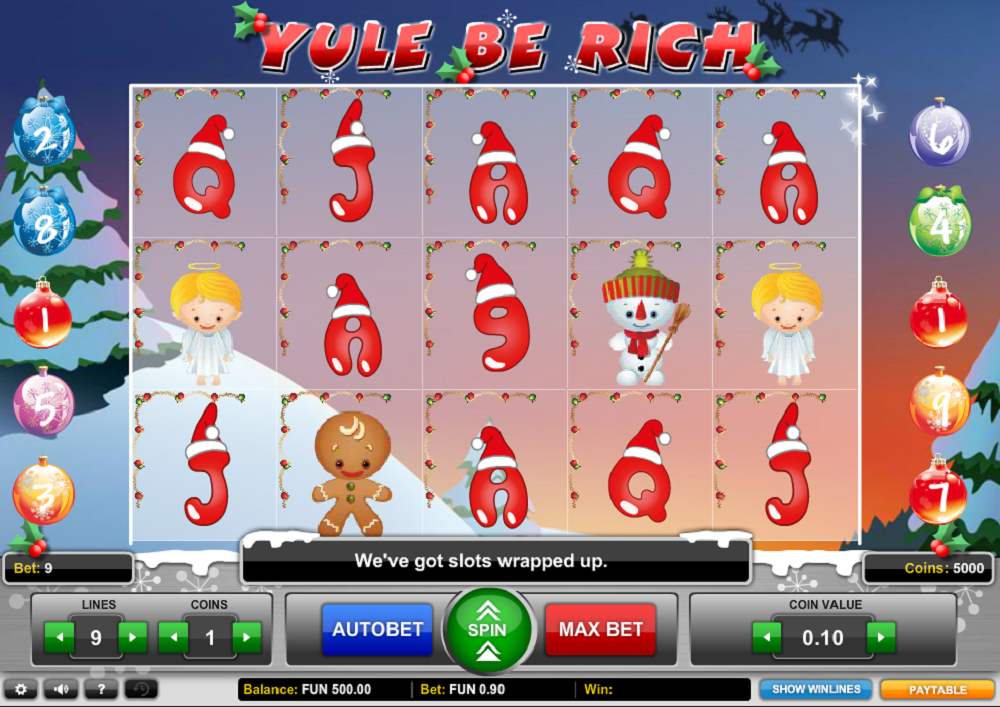 Design
In a background of Christmas trees covered in snow and bobbles to go on them, you will immediately feel the Christmas buzz when the slot game loads up on your screen.  Whether you are playing this on your tablet, desktop or mobile devices, the graphics and music are certainly not compromised and the quality is top notch.  When you press spin and the symbols appear you will see ones such as a Christmas tree or Santa.  Even the "Jack" symbol has a snazzy little Christmas hat on.  When you are playing the game there will be some cheesy Christmas tunes on the go.  It won't be Mariah Carey's "All I want for Christmas" but it will be cheesy enough to make you smile as it sounds very much like "Jingle Bells".  This cunning slot game developed by 1x1 Gaming is just one from their massive portfolio of credible games they have released.
How to Play
You have the option to play on auto-spin if that is your preference or take your time and enjoy every spin by doing it yourself.  With this being a multi-line slot, there are multiple combinations that you can scoop a win and with the bonus features that await you the win is one that could have you smiling all the way to the bank.  There is a 95% win rate on this slot game which is pretty average and with this in mind you shouldn't pass this slot game by.
Game Features
When it comes to bonuses and features on this slot game, there are a couple to aim.  This includes the wild features but also the free spins.  Everyone loves it when free spins are initiated and when you manage to get into this feature, you can sit back, put your feet up and see your real money balance on the account significantly increase.  The Santa symbol is the scatter feature and if you pull in 3, 4 or 5 on the win lines, this would be activated.  The more scatter symbols spun, then the more free spins will be yours.  If you spin 3 then 5 free spins are activated, 4 gives you 15 and will give you 25.  The best symbol to be looking out for in this feature is the snowflake as if you manage to spin this in any or all of the reals, this will be the wild symbol which also has a multiplication of 2.
There's no doubt about it, Yule Be Rich is exactly what you need to put you into the festive spirit! Try it for yourself today!
Game Stats
Paylines
9
Min. Bet
£0.01
Max. Bet
£22.50
Bonus Round
Free Spins, Wild Features