YoYo's Wild
One of the latest slot games from Eyecon has made a massive impact in the slot game world with YoYo's Wild slot review coming on the scene and offering 4 different bonuses!  This multi-line slot game is extremely different from the others you would play and is all based around the famous Yoyo's that children used to play many years ago.  Their innovative design is something that gives a little twist to the online slots and is definitely far more entertaining but also rewarding.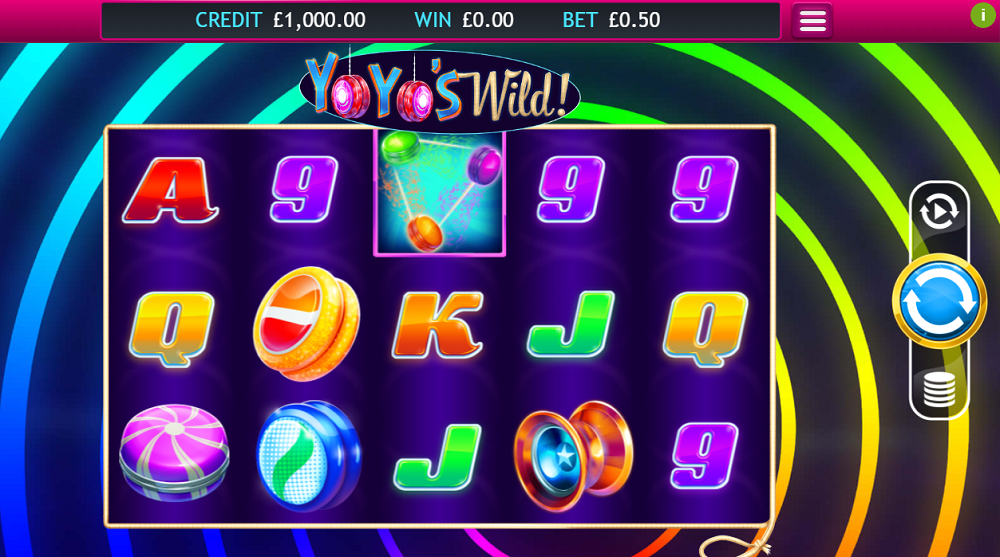 Design
This 5-reel, 3-line slot game is filled with colours that are bright and inviting – they give the game a certain buzz along with lots of energy.  The background is bright blue and green rings where the symbols are pretty standard however have the being "Yoyo'd" from the bottom of the screen rather than come from the top. Eyecon have designed this game so that it can be played from desktop computers, mobile phones and tablets to make sure that anyone that enjoys it has the full flexibility.  As you would expect from a company like Eyecon, the design is of high quality which includes the graphics and sounds.  They have been around in the industry long enough and have brought us probably one of the most famous and popular UK slot games – Fluffy Favourites.
How to Play
With the symbols coming from bottom up to the top in a Yoyo style it can take a little time to get used to.  With the game having 5 reels and 25 pay lines, it doesn't make it too difficult for you to understand if you have a win or not.  If you want to understand the exact value of any of the symbols then you can do so by clicking on the information icon next to the "spin".  You also have the option to play via auto-spin mode and relax whilst the game does all the work for you!  There is no skill involved in this game and it's just a matter of pressing the spin button and as such it makes it an awesome slot game for both new slot players and experts.  The RTP rate on this game is 96.5%.
Game Features
This innovative slot game has a massive 4 different bonuses that can be triggered by spinning in 3 of the scatter symbols.  The scatter symbol on YoYo's Wild looks like 3 yoyo's all entangled in different colours – this is exactly what you are looking for in order to start the bonus.  Once these are spun in then you receive 1 of the 4 below bonuses:
Rock the Cradle – Wilds are the key here and you could get them on in a pyramid shape to bag a significant cash prize.
Walk the Dog – The reels will spin as normal but a yoyo will appear and create a "L" shape substituting those symbols with a wild.
Around the World – If you get this right then the jackpot potential is massive – you can get up to 9 wilds covering a 3x3 area.
2 Handed – Wilds again are the key here and you could spin in 3 from each side giving you a 2 hand trick that could prove extremely valuable.
Who said that the yoyo craze was dead? Revive it now with Yoyo's Wild and earn yourself some amazing wins while you play!
Game Stats
Paylines
25
Min. Bet
£0.01
Max. Bet
£12.50
Bonus Round
Various