Xingyun BaoZhu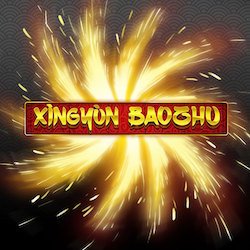 Xingyun BaoZhu slot is another Chinese themed slot game that has been released by Eyecon.  This 5 reel multi-line slot game has all the typical symbols and design you would expect to see from one of these Chinese slots.  With some awesome rewarding bonus features, there is the potential to win a lot of cash for a very small cash stake.  This is a typical multi-line slot game that will suit all types of players (beginners or pro) where the real buzz and energy is actually released when the bonus feature is triggered. 
Design
The symbols will all represent Chinese Warriors or Dragons which keeps in with the name of the slot.  The background is pretty standard and just the one black colour which could probably have been a bit brighter to bring a little more buzz to the game.  Xingyun BaoZhu actually means lucky firecrackers in English and the firecrackers on this game will convert to wild symbols that can prove to be extremely rewarding.  It is disappointing that there is no background music playing on this slot game which would have also improved the game play entertainment.
How to Play
This game is pretty simple to play and understand therefore there isn't anything specific you need to do in terms of skill.  Whether you are a beginner or a pro then this game is ideal for all types of players.  The symbols all include the standard J, Q, K and A we know and love from other slots as well as the other special features. The more you get together in a winning line, the more you will win.  If you want to find out the value of all the symbols then you can click on the information button that is under the spin one to see exactly what are the best symbols for you to keep an eye on.  There is also an auto-spin feature available to select when on this game to allow you to sit back and enjoy the fun!
Game Features
The main feature on this game that you want to trigger is the free spins.  If you manage to get this, then you can normally expect to win a credible amount of cash quite quickly.  In order to get yourself into this feature then you need to spin at least 3 scatter symbols.  The scatter symbol in this instance is the dragon.  The more you spin then the more free spins are yours.  Spin 3 to be rewarded with 15 free spins, 4 will get you 20 and 5 will boost your free spins balance to 25.  Whilst in the free spins bonus, if you spin these scatters again then you will bag additional free spins.  This can be triggered up to a maximum of 15 times giving you a maximum potential of 400 free spins!
This may seem like a typical Asian slot on the surface but it has some excellent special features that will keep you captured for hours. Play for yourself today, here at SlotGames.co.uk  
Game Stats
Paylines
25
Min. Bet
£0.01
Max. Bet
£12.50
Bonus Round
Various