Wolf Hunters
On the hunt for your new favourite slot? Wolf Hunters from Yggdrasil Gaming might just be everything which you are looking for. Waiting for you to join right here at Slot Games, this video slot sees you joining two seasoned werewolf hunters with free spins and expanded wilds plus more!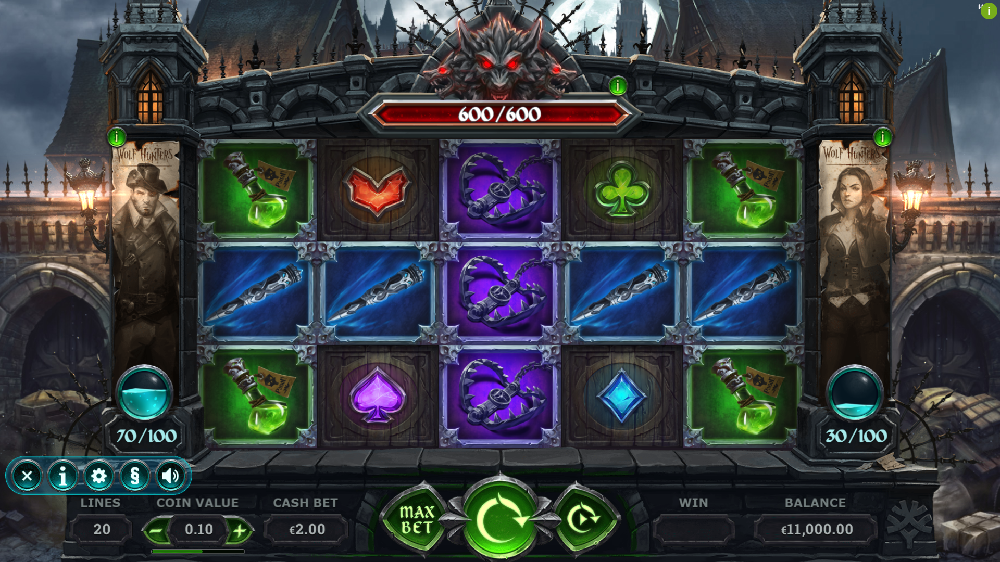 Design
Anybody who has played a Yggdrasil game before knows how much care and attention they put into all their games. Wolf Hunters is no different and takes place in the shadow of a creepy gothic manor; hinting that perhaps that there is more to this Werewolf than meets the eye.
The game has two tier of symbols plus a few scatters. Lower paying symbols are represented by the card suits; a concept well-loved by many a slot developer. The higher paying symbols have obviously been borrowed straight from the kits of the Wolf Hunters. There is a fierce-looking bear trap, a vial of mysterious poison, and a glimmering silver stake.
To go alongside these are the Wilds. Two bear the faces of the Wolf Hunters themselves and are used to activate one of the free spin options in this game. There is also a Golden Wild which can appear both on its own and hidden beneath the black bulk of the dreaded Werewolf.
How to Play
Despite the many special features, Wolf Hunters is a very simple game to play. You adjust your best using the plus or minus at the foot of the reels, or high rollers can simply select the Max Bet button and go from there. You can either hit the spin to turn the reels manually or you can use one of Yggdrasil's many autoplay options to keep the game turning. This feature allows you to stay in full control at all times of play.
Wins are awarded when you land three or more matching symbols along one of the game's 20 paylines. These paylines can be seen in the paytable to the left of the reels.
Game Features
There are 3 amazing sets of free spins to be won in Wolf Hunters plus a whole range of different bonuses to help make wins that little bit better.
The first spins can be won when you land both scatters of the Hunters. This will give you 10 free spins! During the spins, any bonus scatters will go towards powering up the Hunters. Get their meters all the way to the top to unlock more free spins and expanded Wilds!
Anytime the Werewolf skulks onto the reels, one of the Hunters will leap forward to engage it in battle. If the Hunter wins, a Wild will then be revealed. Wilds are always sticky and will grant you a free respin to try to land an additional win.
Each win for the Hunters grants them one point towards their Rage and depletes the Werewolf's health meter by one. Get 100 points of Hunter's Rage for 10 free spins with a fully-powered Hunter or knock the Werewolf's health to 0 for 10 Slayer Spins where every Werewolf symbol becomes an expanded Wild!
Overall, Wolf Hunters is a great game which both new blood and seasoned hunters will pick up with ease. Try it for yourself today!
Game Stats
Paylines
20
Min. Bet
£0.10
Max. Bet
£100
Bonus Round
Various