Three Musketeers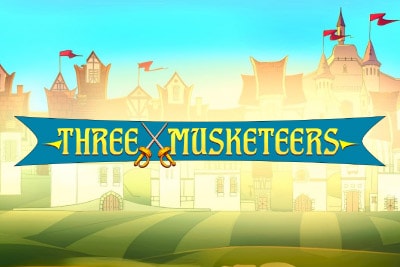 Do you fancy yourself a swashbuckler of slots? If so, you need to come down to Slot Games to spin some reels with Three Musketeers. This amazing slot from Red Tiger has special Bonus Features for each of Alexander Dumas' famous Musketeers sure to excite you and leave you hungry for more.
Design
Each of the symbols for Three Musketeers has been carefully designed to make a fun and cohesive theme. Not only are there the card suits, familiar to anyone who has played a slot before, but Red Tiger have also included some unique symbols relevant to the Musketeers themselves. There is a feathered hat, Porthos's tankard, a gold Fleur-de-Lis and the swords of the Musketeers.
Keep an eye out for scatters bearing each of the faces of Porthos, Aramis, and Athos as well as their respective Wilds bearing each of their colours.
How to Play
To score a win with this slot, all you need is three or more matching symbols across adjacent reels. With 40 paylines, you are bound to grab a great win.
Your bet controls are at the bottom left-hand corner of the game screen along with the autoplay functions. In the right-hand corner are the spin button and the paytable.
Game Features
The standout aspect of Three Musketeers is its varied Bonus Games. Each of the Musketeers has their own Bonus Feature for you to explore. To activate them, all you need to do is find the scatters with the Musketeers' faces. These will add a random number of feathers to the bars on the far side of the screen. When they are full, you are good to play their Bonus Features.
Athos will bring you a brilliant Instant Win in a series of 3 choices. If you think he still has a better offer to make, simply decline his first 2 offers. Whether the 3rd offer is higher or lower than the previous, it is yours! While a big win is fantastic, you will never be left feeling completely disappointed as you are always guaranteed a win.
Aramis takes you to a windmill where the sails have been decorated in with different bet multipliers. Spin the sails and whichever value lands at Aramis's sword point is yours! There are also extra spins available here. If you win multiple multipliers, they will add together to form one big and beautiful bet multiplier that is going to bring you a fantastic prize.
Finally, Porthos will escort you towards his favourite tavern. Guide him through the rooms using the symbols to earn another bet multiplier. In the very last room is a multiplier worth 500x your initial bet. Can you reach it?
These Bonus features are supplemented by the inclusion of randomly occurring Wilds. At any point during the Spin, one of the Musketeers can choose to leap forward and plunge his sword into the reels to create a path of Wilds sure to create a win where there wasn't one before and make a natural win even better. They each leave their Wilds in different ways, keep playing to discover them all!
We think Three Musketeers is perfect for anyone with a sense of adventure. The 3 Bonus Games are as memorable as the 3 Musketeers themselves and are sure to help you towards that big win.
Game Stats
Paylines
40
Min. Bet
£0.20
Max. Bet
£40
Bonus Round
Various