Wu-Shi Lion Dance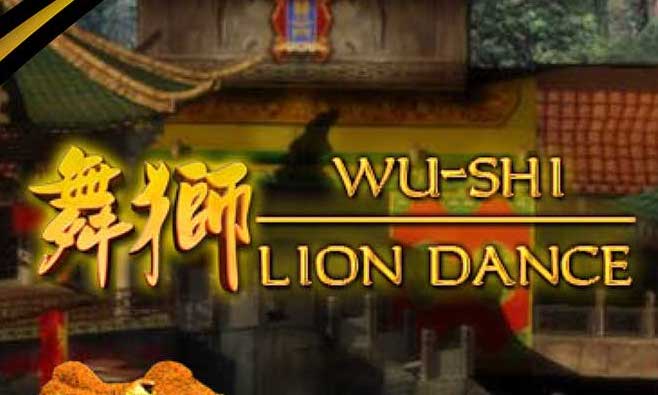 Yet another awesome slot game from Eyecon hits the online market which offers players not only an extremely entertaining experience but a rewarding one.  Wu-Shi Lion Dance Slot is one that promises to keep players engaged for hours on hours with its creative design and fantastic graphics.  On this 5 reel slot game, you could count your fortunes as you travel through the temples of ancient China.  There are a number of different fun features that include the take your pick but also the free spins bonus. 
Design
With this being created by Eyecon, one of the leading slot developers in the industry, you already know that there is a certain quality of design and graphics you would expect to see and they haven't let the ball drop with this game.  In the background of the slot, there are some ancient temples.  In the actual slot game itself, you will see Chinese symbols such as Chinese writings, dragons and statues. Within the symbols, there is the normal J Q K and A, but within the special symbols (such as the Chinese symbols) you could win a lot more if it is accompanied by their wild symbol which is the lettuce. Everything is festooned in red and gold, making this a very opulent-looking game. Red is a lucky colour in China and hopefully the amount of red here will bring you some good fortune!
How to Play
If you are lucky enough to win, there is a gamble feature where you can try to double your win (or lose out on your win completely).  This is an optional feature and can be turned on or off.  In addition to this, there is an autoplay feature available for players where you can choose the number of spins you would like played for you and you can sit back and relax.  You can also see the exact value of all of the symbols by clicking on the "Help" button on the bottom left of the screen. 
Game Features
There are two specific features to look out for.  The first one is the take your pick.  If you land 3,4 or even 5 crackers then a fireworks display begins and you are then prompted to pick a symbol.  What is contained in here will be a specific cash prize.  The free spins feature can be triggered by spinning 3, 4 or 5 lion symbols.  You can receive up to 25 free spins however additional ones can be rewarded if you spin in more lion symbols whilst active within the feature.
If you are a lover of all slots Asian-themed, this is definitely one you need to add to the roster. Try it for yourself today here at Slot Games.
Game Stats
Paylines
25
Min. Bet
£0.01
Max. Bet
£50
Bonus Round
Various