Jade Butterfly
Jade Butterfly is a visually beautiful slot from the creative minds at Pragmatic Play. Available to play now at Slot Games, this game is sure to enchant and delight you with its breath-taking graphics and delightful bonus features.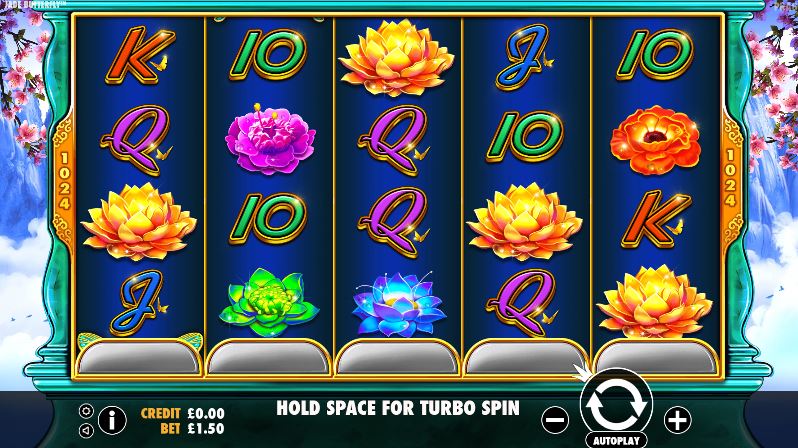 The Design
The game is set against a peaceful, cloud-filled valley. Relax as you watch the blossoms dance in the breeze and the birds swoop through the sky in front of you.
All slot games should feature unique tiles and Jade Butterfly is no exception. This game has 5 individual flower designs which are each intricately detailed and lovely. Other tiles include the run of A, K, Q, J,10, and 9 that seasoned slot players know and love. The titular butterfly forms the stunning wild tile while a golden lotus flower makes for a scatter tile.
How to Play
The game screen is simple to use for both newcomers and old hands alike with most of the tools you need laid out right there on the game screen. Anything else can be found through quick, convenient pop-ups.
By clicking the settings button on your left, you can find a number of settings including controls for the ambient noises and sound effects if you would rather play without them. For your bet controls, all you need to do is bring up the control panel by clicking the plus or minus button on either side of the spin button. Then, all you have to do is press the spinner and send your reels flying, hopefully to land on a win for you!
One of the best control features of this game is the autoplay - the ultimate lazy way to play! Hit the button beneath the spinner to bring up the control panel. From here, you can control the number and speed of the spins (perfect for those players who find this game a little too zen!) and the conditions for stopping the autoplay. This feature is perfect for players who like to play multiple rounds in one go instead of just one at a time.
Game Features
Beyond the wonderful graphics, Jade Butterfly has some dazzling special features to further enrich your gameplay. With 1024 paylines, you have a fantastic chance of taking home a win - although remember, the odds are always in favour of the house!
To win, you'll need at least 3 matching tiles across adjacent reels, starting of course at the left-hand side. If you spin either the yellow or pink flowers, you only need 2 matches!
Jade Butterfly features an amazing free spin bonus round. All you need to start it is 3 or more of the golden lotus scatter tiles across any of the reels. With these in hand, you are awarded 13 free spins. If any of these 13 spins award you a prize, it will be tripled! With these bonus free spins, you truly have the chance to win big.
Lastly, suppose you are one tile away from a big win. One of the reels simply didn't land right but you are feeling lucky. You have the option to respin any of the reels for a small extra cost. With a little luck, your gamble will pay off and you will be ready to net a fantastic prize.
With the Jade Butterfly by your side, you are sure to have a fantastic time playing this slot game. Sit back and let yourself be transported away.
Game Stats
Paylines
1024
Min. Bet
£0.30
Max. Bet
£150
Bonus Round
Free Spins Bonus