7 Chakra's
Sometimes in life, we just need to take a moment to relax. The developers at Genii have the perfect solution for all of us with their game 7 Chakras. Come get your own Chakras back in alignment at Slot Games now.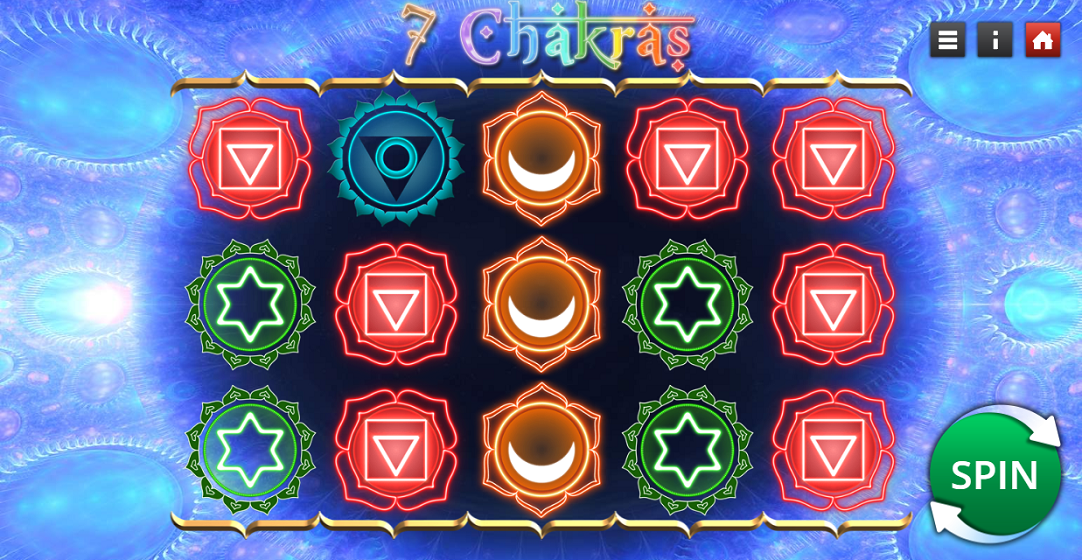 Design
You could expect a game about the chakras to be very chilled out to look at and that is certainly the case for 7 Chakras. Genii has done an excellent job using the background and the music with the symbols to create a very beautiful place for you to spin. If the music is not to your taste, you can easily switch it off in the options.
Symbols are always at the heart of slots and that is certainly true with 7 Chakras. Each symbol actually represents one of the chakras and they also have a colour associated with them. There is a red root chakra, an orange sacral chakra, a yellow solar plexus chakra, a green heart chakra, a turquoise throat chakra, a blue third eye chakra, and a purple crown chakra.
No game is complete without a few unique symbols and we love the ones in 7 Chakras. The Wild is a map of all the chakras against the outline of a body and it stretches across two reels which it lands. The free spins scatter is a beautiful multi-coloured lotus flower.
How to Play
If you have never played a slot game before then 7 Chakras is a great place to jump in at. It is very easy to get to grips with and all you need to do to play is hit the green spinner just next to the reels.
For players who would like a little more control, all you need to do is head to the button in the top right corner with the three lines. From here, you have access to the autoplay controls and the bet controls. The bets in this game work simply enough; you set a value for the coins per payline and then choose how many of the 49 paylines you are betting on. With these, you are able to have full control over the way you play your game.
Game Features
Many people choose their slots based around the bonus features and we are sure that you are going to find 7 Chakras hard to resist. The first thing you should know about is the Bet Both Ways feature. This allows you to claim winning combos which run for both left to right and right to left! To make this a little easier, you should be on the lookout for the Wild. This not only substitutes for any symbol except the scatter, but it also grants any win it is used with a 2x multiplier!
Speaking of those scatters, three or more will grab you a chance at the bonus round. This is one of our favourite features in the game and we think you are going to love it too. When the round activates you will be offered a choice of gems for each of the seven chakras. Once they are selected, you will have a unique combination of spins and a multiplier, meaning that they will be different every time you activate the bonus round!
If you want a little slots meditation, you can't go wrong with 7 Chakras! Try it for yourself now!
Game Stats
Paylines
49
Min. Bet
£0.01
Max. Bet
£61.25
Bonus Round
Free Spins, Win Multipliers