Cabaret Royale
Ready for a night of fun? The stage of Cabaret Royale is waiting for you! Released by 2 by 2 Gaming, head on over to Slot Games where this game appears amongst their large selection of slot, casino and instant win selection.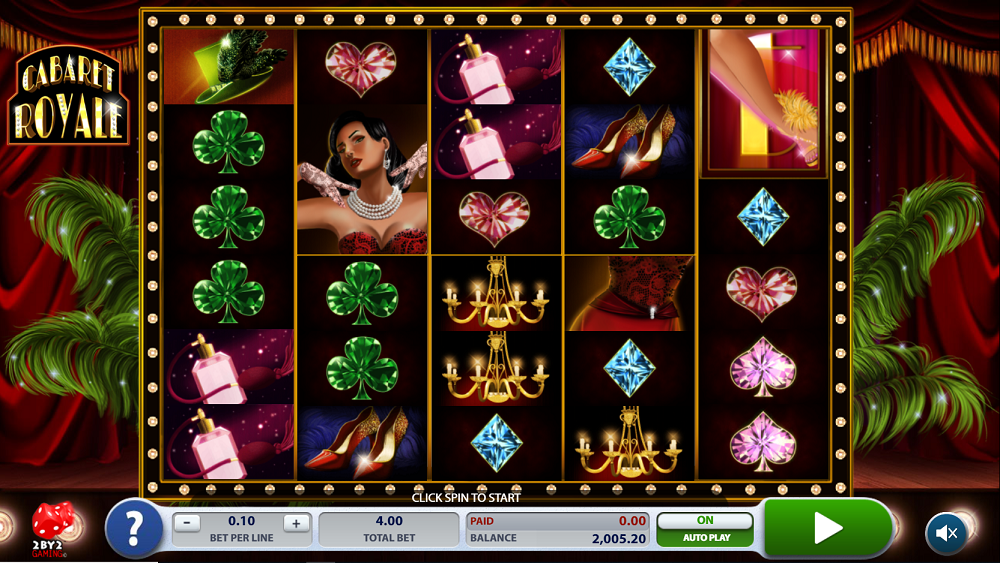 Design
There are literally hundreds (if not thousands) of different slot games available to play on the web, but none are quite like Cabaret Royale. This multi-line slot game has a lot more to offer than a standard slot game. First it has 8 reels instead of your conventional 5 but also it has a total of 3 innovative bonus features that can be triggered randomly.
When you think of the name of this slot game, you will not be surprised to hear that the background of the slot game is a traditional cabaret stage. All the characters and symbols align to this theme and you will see symbols such as high heels and top hats. Characters include a man and women dressed in the cabaret outfits. These characters and especially important as they substitute for wild symbols on reels 1 and 8. They also can pay up to 10x or 15x of the stake! In addition to this, the sounds and music on this game are worth keeping your volume up for. When you trigger one of the 3 features, this intensifies and adds a lot of excitement to the overall entertainment of the game.
How to Play
Playing this slot could not be simpler. Head to the foot of the reels to select your bet. You can then choose between the green spinner and the autospin to kick things off. If you wish to know more about the game or the value of the symbols, be sure to check out the paytable.
Game Features
Typically, on standard slot games you are lucky if you get 1 bonus feature however on Cabaret Royale, there are 3. One of the features you can get is the matching wilds. This is self-explanatory, and this type of feature appears in other multi-line slots. In reel 1 if you get a full reel of the wild symbols (the man or women cabaret characters), you will get the same in reel 8. This happens the other way around also if you receive the wild symbol in reel 8 it will then appear in reel 1.
One of the other features is entitled "Encore". Pretty basic really where randomly at any stage of you playing the slot, an Encore sign will appear in the middle of the screen accompanied by the man or women cabaret character and they will multiply whatever it is you have won by a random amount.
The final feature bonus is one that appears in most slot games. The free spins bonus will be triggered when 3 of the free spins bonus symbol appears in any of the reels. Once that appears, you have a choice to make (a selection from 3). These include the number of free spins you want to receive aligned to the potential for Encores or the Wild Symbols frozen in reels 1 and 8.
Overall, Cabaret Royale is a brilliant slot with lots of potential. If you are searching for the perfect slot for some fun, this will be the game for you.
Game Stats
Paylines
60
Min. Bet
£0.05
Max. Bet
£50
Bonus Round
Various