Big Kahuna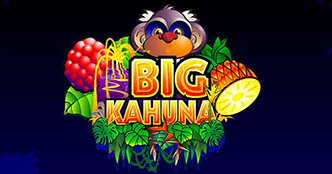 Step inside the mind of Microgaming as you watch the five reels spin on this fantastic game. Big Kahuna is a lot of fun and it is a colourful slot that is packed with bonus features that you will love. From games that allow you to pick your prize to wild symbols, this game has a lot to offer. Make sure to give Big Kahuna a spin today at Slot Games for your chance to win!
Design 
At first glance, you will notice just how colourful this game is. The fruit symbols are all bright and we also have some tiki characters that are thrown in there. Microgaming is behind this game and this is clear from the graphics that are used.
The higher-value symbols in Big Kahuna include the monkey, the man and the dragon. These are unusual but they work for the overall theme of the game. There is a vast array of fruit symbols acting as the lower-value symbols in this game. If you take some time to look at the paytable then you will be able to see all of the symbols in full.
How to Play
If you want to give Big Kahuna a try here at Slot Games then you should know that the stakes are quite low on this game. There are 9 paylines and each bet is across all of these. The most you can bet is £4.50 per spin and the least you can bet is 90p per spin. This is an important decision but you can always adjust your bet as you play to suit your budget.
Each spin pays out if you manage to land a matching combination of symbols across one of the paylines. The more symbols on the payline, the higher your reward is so make sure to look out for this. There are some bonus features that can be triggered and these can be very rewarding.
Game Features
The wild symbol in this game is the logo for the game. This can come in handy when you land it on the reels as it can swap out for any of the fruit symbols. If you are lucky, you can trigger a win through this feature.
The mask bonus is really exciting in this game as it can trigger a mini game which is fun to play. You will be presented with 10 tiki masks and all you need to do is choose a prize and continue as you keep winning. Landing on a collect symbol will mean that your game is over but you will still receive your prize.
The volcano bonus is also available in this game and it is a little simpler than the mask bonus. You will need to choose a fruit to sacrifice and you'll be rewarded for it. This can be quite a large payout so be careful with which fruit you choose.
Microgaming have pulled it out of the bag with this game and we think that you will love it. If you are looking for a new game to play then we suggest that you give Big Kahuna a chance here at Slot Games.
Game Stats
Paylines
9
Min. Bet
£0.90
Max. Bet
£4.50
Bonus Round
Various