Big Blox
Looking for a game that is unique and entertaining? We might just have the perfect game for you as Big Blox slot is one of the best games on the market right now. While it doesn't have all of the complicated bonus features that we see in slots today, this game is simple and offers a lot of cash if you spin a lucky spin. Make sure to give this game a try today at Slot Games.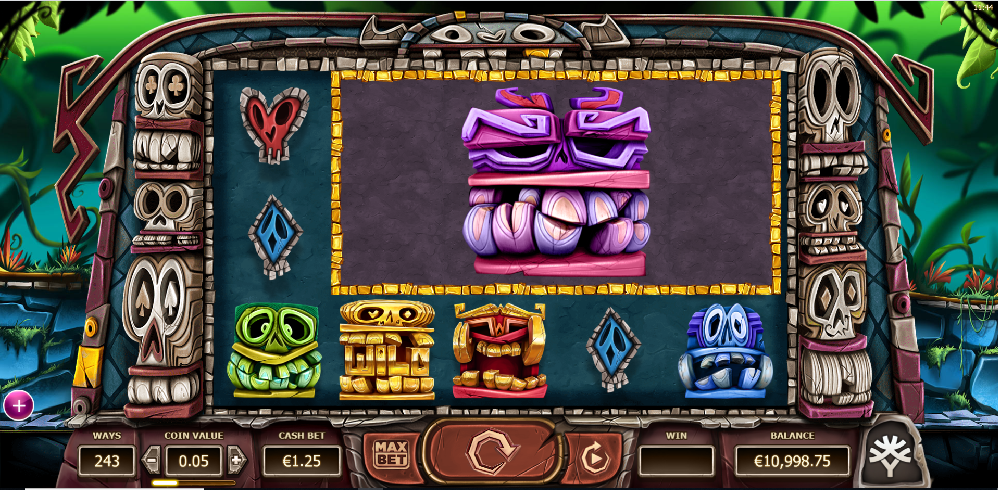 Design 
The design of Big Blox is one that you will love as soon as it loads onto the reels. All of the symbols have been designed with a jungle theme in mind and they are colourful as they spin onto the reels. When you win, the symbols will light up and this adds to the overall design.
The higher-value symbols in this game include the faces that have a tiki style to them. There are a few different coloured faces with the red face being the symbol that offers the biggest payout. For the lower-value symbols, we have the heart, club, spades and diamonds. Of course, these are not your usual suits, they have been designed to match the blocks.
How to Play
If you want to give Big Blox a spin then you are going to need to know how it works. There are 243 ways to win on this game and the bets are multiplied so your cash bet might be different to your coin value. You can adjust your coin value using the buttons on the bottom of the reels. Stakes can be anywhere between 25p and £100 per spin. Make sure that you are happy with your bet before you spin those reels.
Once you are ready to go, press spin and watch the reels come to life. Landing a few matching symbols across one of the ways to win will award you with a prize. This prize is based on the payouts over on the paytable so it might be worth having a look at this.
Game Features
The main feature in this game is the Big Block feature. This will allow for one big block to spin onto your reels every time you spin. This symbol could help you to land a win as it can take up more than one space on the reels. If you're lucky, this will explode and help you to bag a big cash prize!
There is also a wild symbol on this game that you will be sure to love. This symbol will replace any other symbol on the reels. The symbol that you are looking for is a golden block so don't miss out. This can also come as a larger block which can increase your chances even more.
Big Blox is a really fun game that has been designed very well. We love the main features of this game and like what has been done to the wild symbol. If you are looking for a new game to play then make sure to give Big Blox a try today at Slot Games. This is a game that you are not going to want to miss out on!  
Game Stats
Paylines
243
Min. Bet
£0.25
Max. Bet
£100
Bonus Round
Various