Beautiful Bones
Anybody looking for some Latin flair should try Beautiful Bones. This amazing slot comes for the creative minds at Microgaming and is available for you to try alongside hundreds of slots at Slot Games. For a simple slot with some hidden talents, you cannot go wrong here!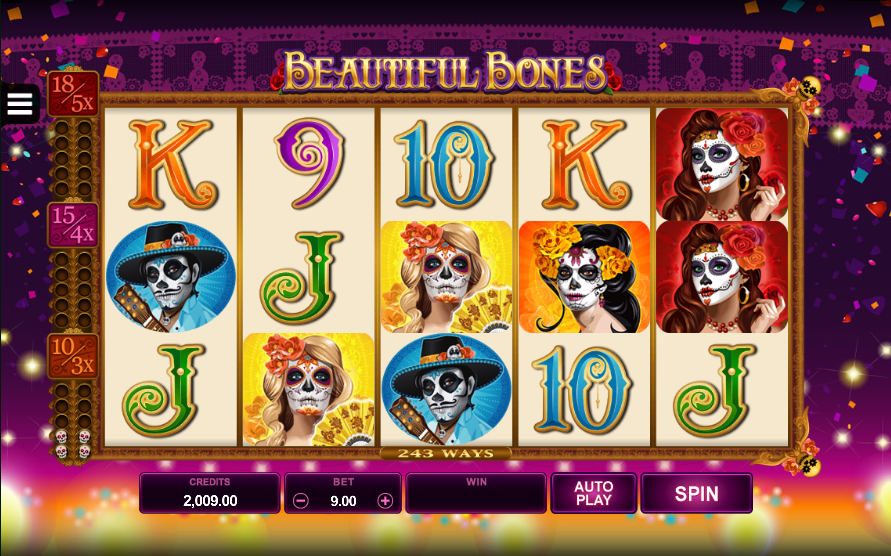 Design
Beautiful Bones has a very opulent purple background complete with small tickets of confetti to help remind us that the Day of the Dead, the overarching theme of this slot, is very much a time of remembrance and celebration.
Lower paying symbols used are fun, colourful design of the card run which every slots lover will recognise; A, K, Q, J, 10, and 9. The higher paying symbols are two men and three women all decked out in very beautiful La Catrina makeup. Each one of their faces has its own details and design. You are bound to want to spend some time studying every facet.
There are also two elusive symbols you will only see on occasion. The first is the game's Wild; a heart surrounded by roses. The second is a sugar skull with blue diamond eyes nestled safely on a cushion and also surrounded by flowers and candles; the perfect offering for the dead.
How to Play
Everything you need to play Beautiful Bones is right there at your fingertips. To play, you simply have to adjust your bet to a level you are comfortable with using the plus and minus buttons at the foot of the screen. All you then need to do is send those reels turning! You can either hit the spin to the right, or you can choose from 10, 25, 50, or 100 autospins. It is up to you!    
Game Features
There are a number of different features in Beautiful Bones which are sure to delight you. The scatter skulls can only land on reels 1 and 5. When it does, you will see it zoom across the reels to the ruler on the left-hand side. Collect 10, 20, or 30 skulls and you are looking at some free spins and a multiplier to boost any wins you land even higher! There are some great chances to grab a big win here!
The game's other feature lies in the wilds. If you line up 3 matching symbols in either a column or a row, they will combine into one new Wild! Watch as the reels then spin once. Will you manage to land another great win?
Finally, if you manage to grab 5 of the same symbols in a winning combo across the reels, you will get an amazing 2x multiplier on that win. It is a great little boost to an already fantastic win!
Beautiful Bones is overall a very beautiful and well-designed game. We think people need to see this game to truly appreciate its stunning design and what better way to do so than playing some reels for yourself? The game is super simple to play so it is perfect for both newcomers and experienced players looking for a change of pace. No matter how you are coming to the game, we are certain you will enjoy playing it. Try it for yourself now!
Game Stats
Paylines
243
Min. Bet
£0.30
Max. Bet
£30
Bonus Round
Spin Again Wilds, Free Spin + Multipliers