Astro Pug
Head to China and see if you can be in for a chance to win big in the slot game Astro Pug by the gaming provider Lightning Box Games. This game includes some brilliant sound effects and graphics as well as bonus features that can help you win big such as; free spins, wilds and more. Make sure you head to Slot Games today and see if you can win big in this fun and exciting slot.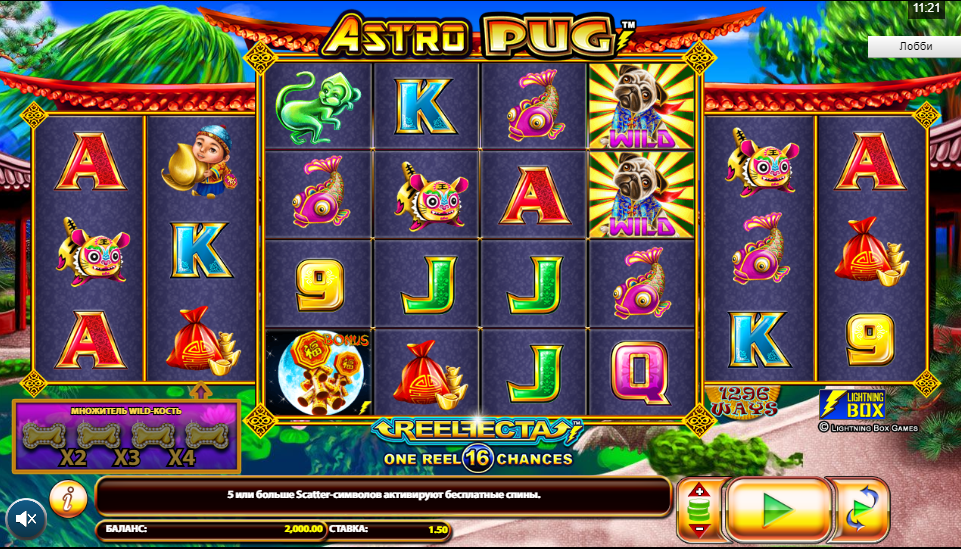 Design
In Astro Pug, you will notice that there is an oriental theme to this game and this can be spotted as soon as the game loads as well as through the design and the images used as you play this slot.
When you play Astro Pug, you will notice that the symbols on the reel match the oriental theme of the game. Each symbol is worth a certain amount and depending on the symbol some can be worth a lot more than the other symbols in this game. Lower-worth ones include the spread of 9, 10, J, Q, K, and A. Higher-paying ones have been designed specially for this game. The scatter is a wind chime while a pug acts as the wild.
How to Play
In Astro Pug, you will notice that there are a lot of similarities to other slot games that you can play online. This is because you will need to place bets and then click on the spin button to be in for the chance of winning. If you want to find out more information about this game before playing then, make sure you read over the instructions. This is because when you read over the instructions you can find out everything that you want to know about this game. For example, you read the instructions, you can find out what the symbols are worth, where the paylines are and what the bonus features are and more.
After you have read instructions for Astro Pug, you will be able to start spinning your way through this game for your chance to win in this slot. The lowest amount that can be bet in this slot is 50p and the highest is £250 so, make sure you have a look and decide what you would like to bet.
Game Features
When playing Astro Pug you can be in for the chance to win big with the amount of cash that is up for grabs during this game. As well as all of the chances for you to win big in this slot, you can have even more chances to win with the game features available. In this slot, the game features include free spins and wild symbols. These symbols will need to land on the reel 5 or more times for the chance to win so make sure you keep your eyes open while playing this slot. Collect golden pugs to unlock the amazing Mega Reel!
Overall, Astro Pug is a fun slot that you can play and enjoy for the chance to win big. Make sure you give this game a go today for your chance to win some huge amounts at Slot Games.
Game Stats
Paylines
1296
Min. Bet
£0.50
Max. Bet
£250
Bonus Round
Various