Ancient Fortunes: Zeus
Interested in playing a slot game that is fun yet shows some history? Then play the slot game Ancient Fortunes: Zeus by Microgaming. This slot game is full of some exciting and fantastic graphics, bonus features which include up to 70 free spins and the chance to win some brilliant cash prizes with each spin.  Play this slot game today at Slot Games to see what you could win.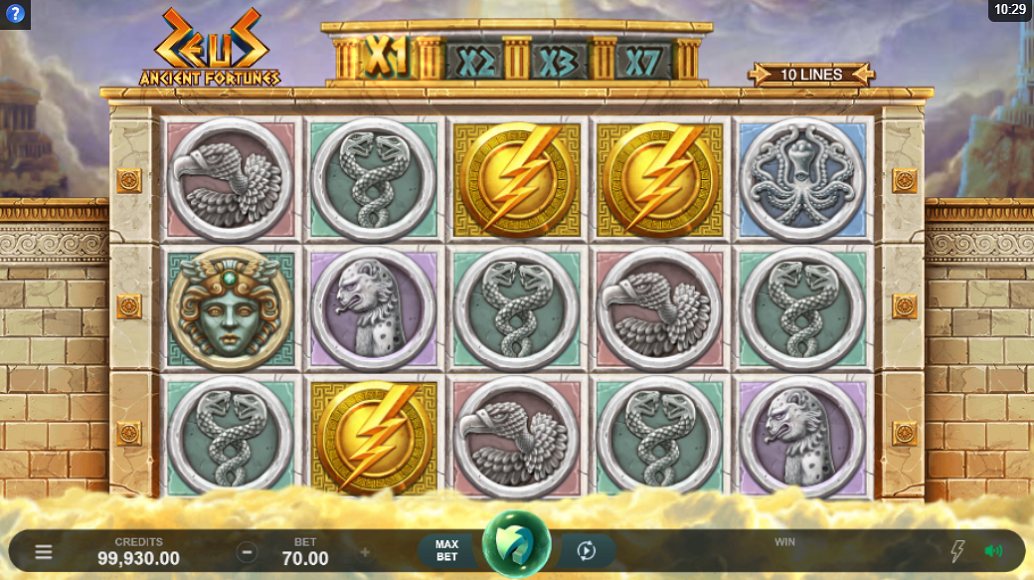 As you play the slot you can enjoy some brilliant graphics, great bonus features which can guide you on your way to win some amazing cash prizes. Have a spin today and see what you could win as you spin in this Ancient Greek themed slot.
Design
The slot game Ancient Fortunes: Zeus is filled with some fantastic graphics that are also stunning to look at because of the colours and symbols used. The Ancient Greek theme can be seen in the background and on the reel as well as the title of the slot. In the background, you will be in the clouds with lightning bolts appearing across the screen. The background is full of stunning blue and gold colours that give an overall luxury feel.
The symbols worth a smaller amount are the snakes, the leopard, an octopus and a vulture-like bird. The symbols worth a higher amount are the different Greek Gods including Dionysus, Ares, Poseidon, Hermes, and Zeus who acts as the Wild. The free spins scatter is Zeus's lightning bolt.
How to Play
If you have played other slot games before then Ancient Fortunes: Zeus will be easy for you to understand and play. This is because all you need to do is pick an amount you want to bet and then spin by clicking the button. However, if you are not sure on how to play slot games or you would like to find out more information about Ancient Fortunes: Zeus then you can have a read over the instructions. This can give a better understanding of the game, what the symbols are and how many paylines are in the game.
When you have read the instructions, you can begin to place some bets, you can place bets by clicking on the button and clicking on an amount, or by clicking the '+'or '-' arrows. Then all that is left to do is hit the spin to see what happens.
Game Features
In this game, there are many brilliant bonus features that you can enjoy. The wild symbol is the golden face of Zeus; if you spin this on the reel you could win some high amounts as he substitutes for all symbols. The other bonus feature is the lightning bolt; if you spin this 3 or more times you can win some free spins. You should also keep your eyes out for the avalanching symbols. Every win triggers a respin with a win multiplier. Hit four wins in a row and you are looking at a 7x win multiplier.
If you are interested in this fantastic game, take a spin and play the slot game Ancient Fortunes: Zeus for the chance to have some fun on Mount Olympus and possibly walk away with a treasure or two.
Game Stats
Paylines
10
Min. Bet
£0.10
Max. Bet
£70
Bonus Round
Various