Amazing Aztecs
It's time to head back to the time of the ancient Aztecs with this fun game from Just For The Win. If you are looking for a beautiful slot with plenty to keep you entertained then look no further than Amazing Aztecs now!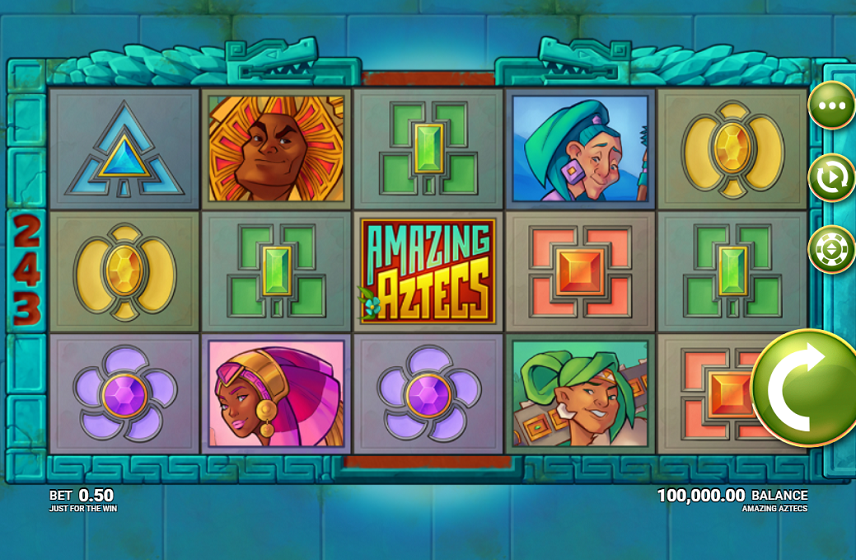 Design
Amazing Aztecs is a slot game that shows an overall Aztec theme with the images and symbols used throughout. The background is a blue background which helps the symbols stand out because they are so bright in colour. In this slot game, each symbol is worth a different amount, for instance, some are low paying and others are high paying. The high paying symbols include a woman in blue, the woman in green, the woman in pink, and the man in the orange background. The low paying symbols are the orange gem, yellow gem, the purple gem, green gem and the blue gem. The symbol in the game with the most worth is the one with the game's logo.
How to Play
Amazing Aztecs is a brilliant slot game and is straightforward to play, simply place an amount to bet and spin. However, if you haven't played slot games or if you would like to find out more information before you play Amazing Aztecs, then you can read over the instructions in the paytable. When you read the instructions you can find out how the game works, what the bonus features do as well as find out where the paylines are and what each of the symbols is worth. Even if you are a pro at slots, it is always worth taking a look at the paytable to see if you learn a hidden secret or two.
 Once you have decided on the amount you would like to bet, press the spin button on the right-hand side of the reel and start you can land!
 Game Features
Some slots prefer to let the game speak for itself and this is definitely the case with Amazing Aztecs. There is only one bonus feature in this game and that is the Giant Symbol Respin. Any time you land a winning combo, a giant symbol may be randomly awarded. The reels will enter a free respin and either a 2x2 or a 3x3 symbol will land amongst your symbols, potentially boosting them to an even higher win! It is a great way to add to an already fantastic win and we are sure you are going to love it.
We think Amazing Aztecs is a fab game and everyone should give it a spin. Sure, you may find yourself a little bored if you are used to games with crazy bonus features at every turn. However, we think this game's simplicity is a breath of fresh air and we cannot wait to play more of it. Try it for yourself today.
Game Stats
Paylines
243
Min. Bet
£0.01
Max. Bet
£100
Bonus Round
Respins, Giant Symbols