Aladdin and the Sorcerer
Travel to the Middle East desert and join Aladdin on his quest to defeat the sorcerer villain in the slot game Aladdin and the Sorcerer by the fantastic gaming provider Pragmatic Play. You can enjoy some amazing graphics and sound effects along with brilliant bonuses throughout as you play free spins and more. If this sounds like a slot game that you would enjoy playing then, make sure you keep reading to find out more about this game or, head to Slot Games and give this game a go today!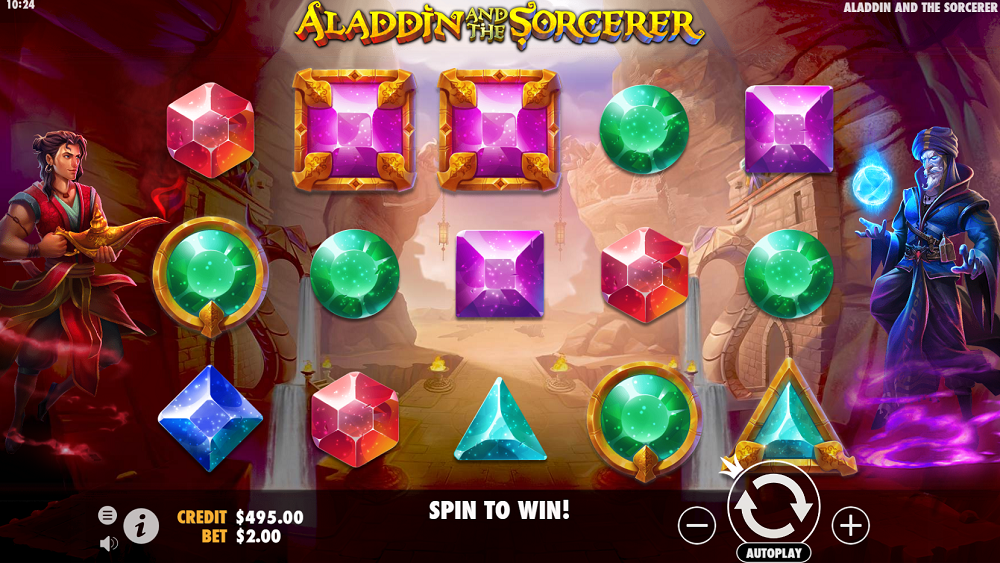 Design
When you play this slot game, you will find that there is an overall Middle Eastern theme with the images and with the design of the background itself. The theme of this game can be seen as soon as the game loads so, you won't miss out on any fun.
The symbols in this slot game are worth different amounts, for example, some are worth small amounts of cash and others are worth a lot more. They are all sparkling gemstones in different colours – green, turquoise, blue, purple, and red – and the higher-paying ones can be identified by their golden band. There are also scatters bearing the Sorcerer and Aladdin.
How to Play
If you decide that you want to play the slot game Aladdin and the Sorcerer, you will find that it is very similar to other slot game that you can play. This is because you will have to decide on an amount that you want to bet and then click the spin button to play this slot. The lowest amount you can bet in this slot is 20p and the highest amount that you can bet is £100 so, have a think and choose the amount that you would prefer to bet. Before you play this game, it is important that you read over the instructions and find out all the information about this game before you play. This is because you will be able to find out exactly how much you should bet and where the paylines are as well as how much the symbols are worth and more.
After reading the instructions on how to play this slot, you will then be able to start placing bets and then, start spinning for your chance to win big in the Aladdin and the Sorcerer slot game to see if you have been lucky enough to win in this slot.
Game Features
As you play Aladdin and the Sorcerer, you will find that there are some brilliant game features for you to enjoy throughout. Land both scatters at the same time to get started. Aladdin and the Sorcerer will begin to battle; landing their wilds on the reels will determine the outcome. Should Aladdin lose the round will end, but if he wins you will progress through the bonus and might even pick up win multipliers of up to 3x.
Overall, Aladdin and the Sorcerer is a great slot that you can play for a chance to win huge amounts of cash with every spin. Make sure you head to Slot Games today for your chance to win big.
Game Stats
Paylines
20
Min. Bet
£0.20
Max. Bet
£100
Bonus Round
Respins, Win Multipliers