Agent Jane Blonde
Take part and get involved in the action and become a spy agent whilst you spin your way to some huge wins. If you are looking for a game that will provide you with hours of entertainment then Agent Jane Blonde by the providers Microgaming is just what you are looking for. Play Agent Jane Blonde and other exciting casino games at Slot Games now.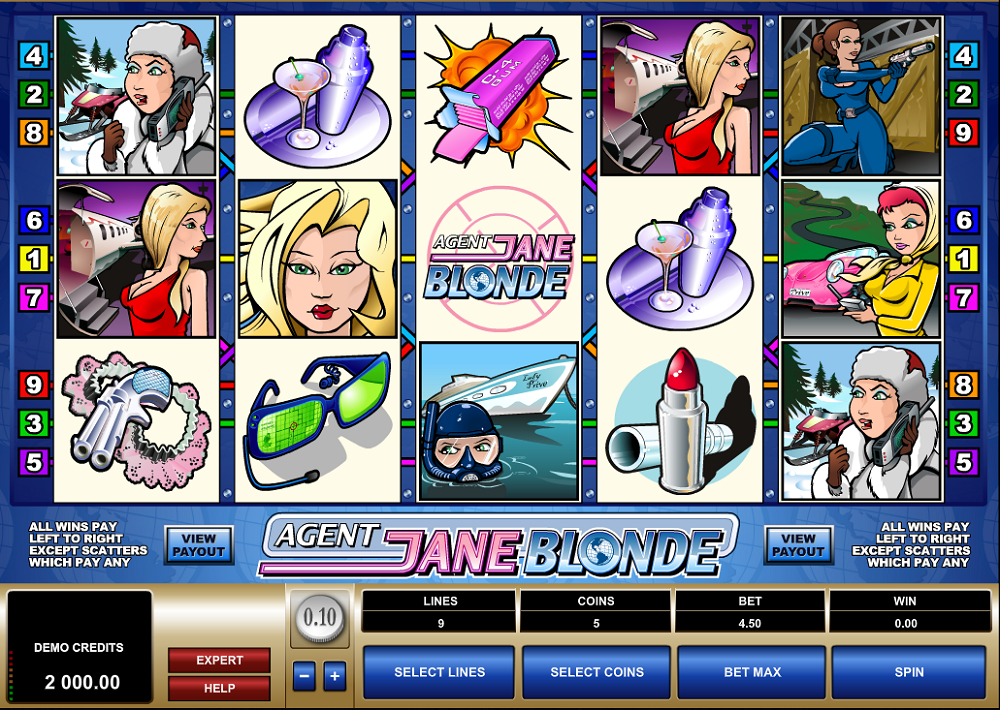 Design
The overall design of the slot game Agent Jane Blonde looks like a retro comic book. The pop art across the reel brings the game to life with all its vibrant colours. The symbols stand out against the reel with bright colours and designs. All of the symbols are worth different amounts – some symbols are high paying whereas others are low paying. The high paying symbols are; the spy with the weapon, the girl with the pink car, the snorkelling spy. The bonus features are the wild and scatter symbols which are also high paying. The lower paying symbols are the girl standing in front of a plane and a girl in a snowy area as well as the spy equipment – gun, lipstick, arm gadget, cocktail chewing gum and even spy goggles.
How to Play
Agent Jane Blonde is similar to other casino games which makes it easy for you to play if you have played other slots before. If you are unfamiliar with slot games, then not to worry because you can read over the instructions to find out everything you need to know before playing. The instructions will give you all the information about which symbols are high and low paying, where the paylines are and information about the bonus symbols.
After reading the instructions and you have a better understanding of the game, you can start placing bets. To place a bet simply click the '-' and the '+' to increase or decrease your betting amount. When you first begin playing, it would be a good idea to place low bets and then gradually increase your amount for some higher winnings.
If you decide you want to bet the highest amount, click the 'bet max' button and you will automatically bet the highest amount you can. When you start to bet higher amounts you will also find that your overall winnings will also increase.
Game Features
Not only does the slot game Agent Jane Blonde provide you with the chance to feel like a real spy, but there are also great bonus features that can allow you to win great cash prizes. The wild symbol is a close-up image of Jane Blonde and lets you double your winnings if these symbols appear on the reel. The scatter symbol is the logo of the game and it allows you to win up to 15 free spins if you land the symbol on the reel at least 3 times.
Join in the action and play Agent Jane Blonde for your chance to unleash your inner secret agent today!
Game Stats
Paylines
9
Min. Bet
£0.01
Max. Bet
£36
Bonus Round
Free Spins, Scatter Pays