A Visit From St Nick
If you are looking for a game that will provide you with hours of fun then A Visit from St Nick by the providers High 5 Games (learn more about High 5 Games slots) is just what you are looking for, play A Visit from St Nick at Slot Games today for your chance to win huge jackpot prizes!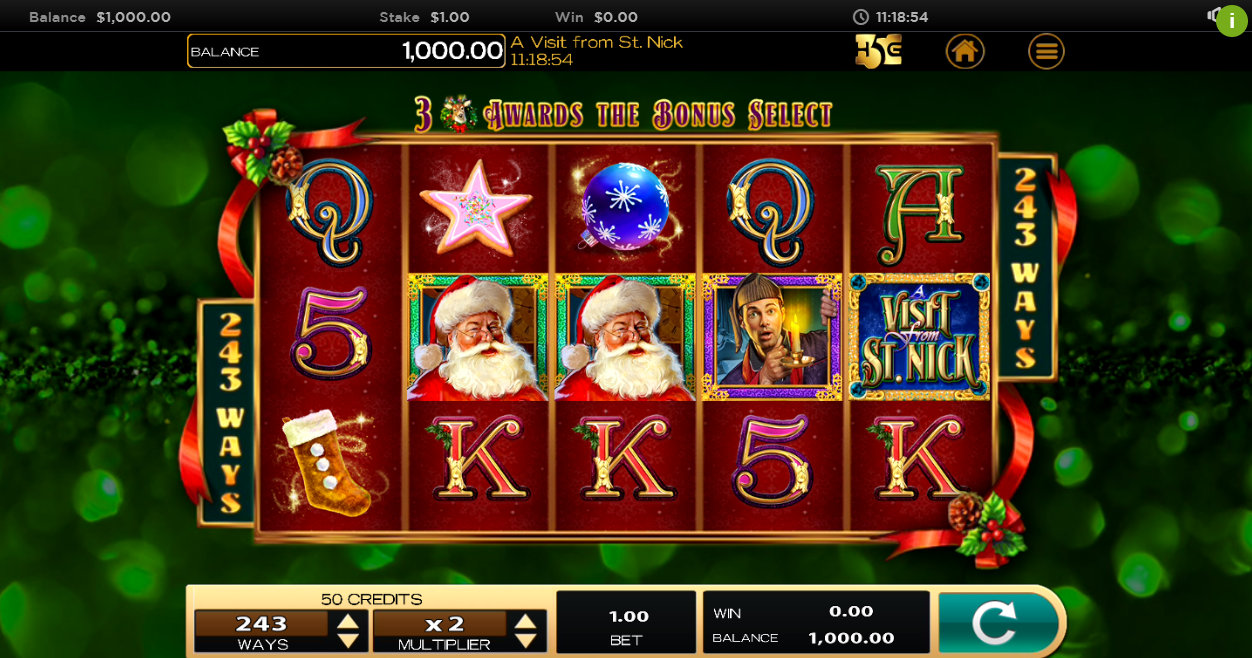 Design
The symbols and colours used in A Visit from St Nick create an overall Christmas theme to the game. Bring the Christmas spirit and see the magic as you play A Visit from St Nick and win huge cash prizes with every spin throughout the game. Through the game you will find high paying and low paying symbols; the low paying symbols are the letters and numbers, Christmas tree bauble, stocking, and the star and the high paying symbols include a man with a candle, Santa and the logo of the game.
How to Play   
To play A Visit from St Nick, it is fairly simple; however, if you would like to read over the instructions and find out more information before you play. In the instructions, you will learn what symbols are high paying and which symbols are low paying. When you read over the instructions you will have a clearer understanding of how to play this game.
After you have read the instructions you can then place a bet to see how much you can win. In order to place a bet, click on the button with the number of paylines located on the left-hand side of the action bar. Scroll through the numbers on to change the amount you want to bet, you can change the amount you want to bet at any time by clicking this button throughout the game.
Once you are happy with the amount you have decided to bet, click the green arrow on the right-hand side to start spinning.
Game Features
With this slot game, you will find there are a number of different bonus features that can help you increase your winnings. The bonus features include a wild symbol, scatter symbol and a bonus symbol. The wild symbol is a present that comes in different colours and has different payment amounts that can increase your winnings a lot more. The scatter symbol is the symbol of the game and is the highest paying symbol on the reel which helps to increase the amount of money that you can win. The bonus symbol is the reindeer and if you land 3 of these on the reel you get to unlock free bonus rounds that last up to 12 spins.
Play A Visit from St Nick for your chance to win huge jackpots as well as get involved in the Christmas magic today!
Game Stats
Paylines
243
Min. Bet
£0.05
Max. Bet
£200
Bonus Round
Free Spins, Bonus Symbols