7-UP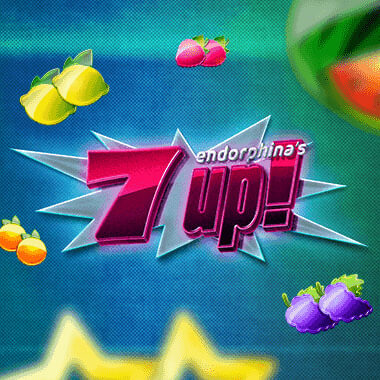 If you are on the hunt for something different than a slot which still has all your favourite hallmarks of one, you need to try 7UP! This fun scratch game was developed by the innovative thinkers at Gamevy and is available for you to play at Slot Games alongside our massive collection of slots online.
Design
From the soothing techno beats of the soundtrack to the neon symbols against the black background, it is obvious that this game takes heavy influences from the arcades of old. In fact, you may feel like you are stepping back into the past and into an arcade yourself while playing.
The lower paying symbols are ones which any fan of the traditional fruit machine is bound to recognise. There are lemons, cherries, pineapples, bananas, grapes, and watermelons. There are also some higher paying symbols in the form of horseshoes, clovers, diamonds, bells, and the iconic bar symbol. The highest paying symbol in the game is the lucky number 7. It is bound to bring you a few amazing wins!
How to Play
While scratch games are very different from slot games, there are a number of crossover points which mean that you should have no trouble working out how to play this game.
Let's start with the controls on the right. First, you will need to decide how many of the lines you are going to bet across. With up to 7 available, you can pick only one or any number up to the total. You then need to decide how many coins you are going to bet per line. Bets range from 2p up to £70 so you have quite the range to play in.
When you are completely satisfied with your set-up, all that is left to do is hit the Play button! The buttons will flash and each line will reveal whether or not it is a winner! All you need is 3 matching symbols for one to do it! 
Game Features
While this game has none of the bonkers bonuses that more traditional slots have, it doesn't mean it is in any way less fun to play. If you think that you are going to miss things like the free spins then this might not be the game for you. However, if you are looking for something new, you may have found something perfectly fresh and delightful.
Scratch games are all about the instant win gratification and 7UP! comes packed with it. While playing with a max bet, if three 7s manage to make their way on the same line, you will land an amazing 100k win! This is an opportunity which is not to be sniffed at!
While most players will not want to play at max bet, we still think that people are really going to enjoy the wins that they do manage to grab.
If you are looking for something fresh to play that is not a slot, you might just have found it here. It is the perfect throwback to 80s nostalgia while still remaining simple enough that anyone could get the hang of it. Not everyone is looking for a slot packed to the rafters with special features; if you are such a person then 7UP! is waiting for you to give it a play!
Game Stats
Paylines
7
Min. Bet
£0.02
Max. Bet
£70
Bonus Round
Scratch Card