Beehive Bedlam
Do you think that you can avoid the sting of the bumble bees? Beehive Bedlam Reactors is a great game that will award your wins in clusters rather than across paylines. This game is colourful and is a lot of fun and there is a lot of cash at stake. Make sure to give Beehive Bedlam Reactors a spin right here on Slot Games today!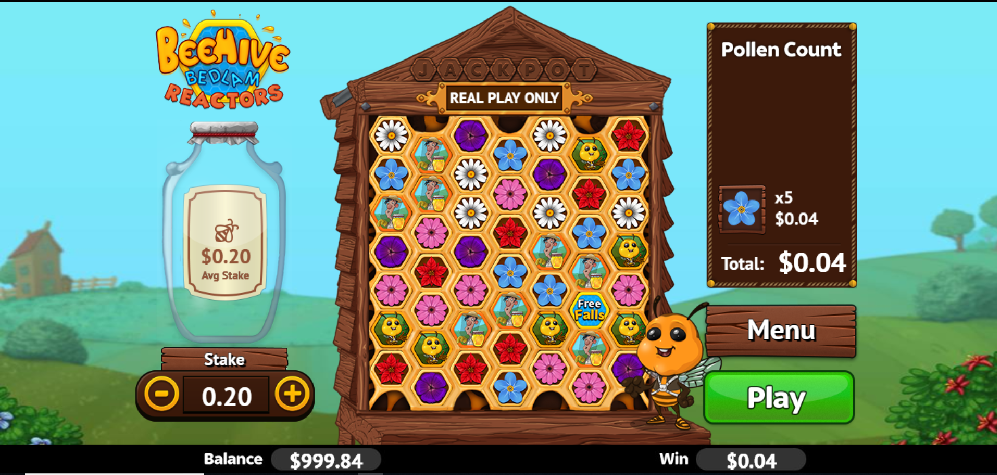 Design 
Beehive Bedlam Reactors takes place on a farm with a beehive and some really fun characters that appear. The main game is located on the beehive and there are no standard reels that can be spun. This is because this game plays out in cluster wins and free falls.
For the symbols, you'll find some bees that include the Queen Bee and Buzz. The other high-value symbols are the Boss Man and Daisy. The lower-value symbols in this game include some colourful flowers that are worth varying amounts. Check the paytable to find out exactly how much this is.
How to Play
Beehive Bedlam Reactors is a lot of fun and it is easier to play than you might think. The first step is to place your bet somewhere between 10p and £500 per spin. This can be done using the buttons on the left of the reels under the jar.
Once you are ready to go, you will need to press the play button. This will activate the symbols and throw some new ones onto the reels. Any wins will light up and be added to the pollen count on the right of the screen. Your wins will be totalled up as long as you can land five or more connecting symbols. You should also look out for the honey jar over the left during this as it can be quite rewarding.
Game Features
As you spin on Beehive Bedlam Reactors, you will notice your wins are added to the pollen count and the symbols are replaced with new ones. This is the main feature in the game and it can be quite exciting to see the pollen count increase.
Beehive Bedlam Reactors also has a jackpot which can be triggered using the Free Fall bonus so look out for this.
For those who like their games to progress, the worlds feature in this game is really quite exciting. As you play, you will travel around 10 worlds and you'll be rewarded for each world that you progress through.
If you like games with achievements then you are in luck because Beehive Bedlam Reactors also offers this. There is a large list of achievements that you can unlock by completing various goals on the game. Some of the most exciting achievements include completing the game 10 times and moving across five of the worlds. You will be able to see all of your achievements in one place in this game.
Here at Slot Games, we know when a game is one that you will enjoy. This game is very different from others that we have played and it is extremely popular with players. We suggest that you give Beehive Bedlam Reactors a try today to see what you can win. This game has a lot to offer and you could end up completing the game and travelling around all of the worlds.
Game Stats
Paylines
Cluster Wins
Min. Bet
£0.10
Max. Bet
£500
Bonus Round
Various